It's that time of year again where Orange County comes to life with the bustling sounds of firecrackers and festivities to celebrate the Lunar New Year, the most important traditional Chinese holiday. Also known as the Spring Festival, each year celebrates a different zodiac animal and this year celebrates the year of the dog. Check out the list below for upcoming Lunar New Year events near you in Orange County!
1. 37th Annual UVSA Tet Festival
The Tet Festival is a 3-day weekend long celebration and is recognized as the worlds largest Tet Festival outside of Vietnam attracting over 60,000 guests annually. The event is put together by numerous volunteers from the local non-profit group UVSA (Union of Vietnamese Student Associations) to celebrate the Lunar New Year with live entertainment, attractions, plenty of ethnic foods, and more.
Date/Time: February 16th – February 18th
Friday 02/16: 4PM-10PM
Saturday 02/17: 11AM-10PM
Sunday 02/18: 11AM-9PM
Location: 88 Fair Dr, Costa Mesa, CA 92686
Parking:  Enter through Gate 1 or 3 (Arlington Dr is closed for construction)
Admission: 
One day GA ticket – $6 at the door / $5 online + fees
3 GA day ticket – $12 online + fees
FREE – infants 2 years and younger, no stroller parking available
Special: On Saturday 02/17 from 11AM to 1PM, wear traditional Vietnamese attire, scout, or military uniform for FREE admission
For more info: https://tetfestival.org/visitor-info/
2. Asian Garden Mall Flower Festival 2018
Festival located in the heart of Little Saigon, exhibiting the largest gathering of fresh mai flowers, cherry blossoms, orchids, and a wide selection of exotic fruit. An open event that can be visited at any time of the day, with plenty of food stands set up at 6PM to serve freshly grilled BBQ and various other Vietnamese street food.
Date/Time: January 26th – February 14th (daily)
General Time: 10AM-10PM
Food Vendors Available: 6PM-10PM
Live Entertainment: 6PM-10PM
Location: 9200 Bolsa Ave, Westminster, California 92683 (Asian Garden Mall)
Parking:  Behind Asian Garden Mall or any of the shopping plazas on Bolsa Street
Admission: FREE
For more info: https://www.facebook.com/events/311935209314429/
3. Lunar New Year Festival Mainplace Mall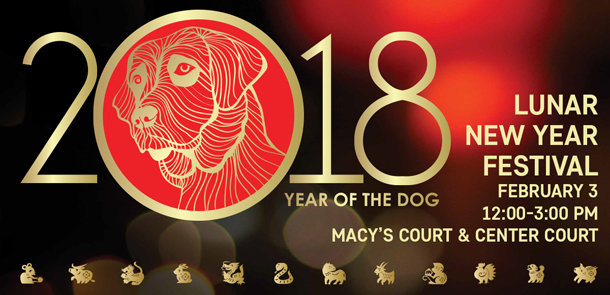 Mainplace Mall is partnering up with UVSA to throw a huge Lunar New Year celebration complete with cultural entertainment, fun activities, and Instagram worthy decor!
Date/Time: February 3, 2018 12PM-3PM
Location: 2800 N Main St, Santa Ana, CA 92705
Parking: Mall parking near Macy's
Admission: FREE
Specials: Spend $50+ at a Mainplace mall retailer before 2:30PM that day and show your receipt to get a free dog plush. UVSA will also be present to give FREE tickets to children for the upcoming UVSA Tet Festival. While supplies last.
For more info: https://www.shopmainplacemall.com/event/Lunar-New-Year-Festival/2145501988/
4. Annual Little Saigon Tet Parade
An annual celebration for the past 20 years, the Tet Parade returns again bigger than ever. The parade travels down Bolsa Ave located in the heart of Little Saigon. This year to commemorate the Year of the Dog, expect to see a pack of K-9 units from local Orange County police stations!
Date/Time: February 17, 2018 8AM-12PM
Location: Bolsa Street, between Magnolia and Bushard, Westminster, CA 92683
Parking: Surrounding residential areas, Leo Carille Elementary, and more. Click here for a full list.
Admission: FREE
For more info: http://tetparade.org/index.html
5. Tet Festival 2018 
This Tet Festival is not related to UVSA and is put together by the Orange County Board of Supervisors, OC Parks, and OCEAVA to provide a fun and free event for the public to enjoy with live entertainment, activities, food vendors, and more.
Date/Time: February 16th – February 18th
Location: 16801 Euclid St, Fountain Valley, CA 92708 (Mile Square Park)
Parking: Designated parking lots in the park and street parking along Mile Square Park. Free drop-off and pick-up available.
Admission: FREE
For more info: Festival Mile Square Park Facebook
6. Lunar New Year at The Source 
The Source will be celebrating Lunar New Year with an event that'll be opening with a special Lion Dance as well as other performances such as a Kung Fu demonstration, Chinese music/dance, and more.
Date/Time: February 18, 2018 1PM-5PM
Location: 6940 Beach Boulevard, Buena Park, CA 90621 (The Source OC)
Parking: Parking structure at The Source (entrance located on Beach Blvd)
Admission: FREE
For more info: http://thesourceoc.com/lunar-new-year-2018/
7. Lunar New Year at the Irvine Spectrum
Irvine Spectrum Center will be hosting an event with Asian themed stilt walkers, Korean fan dancers, Chinese lion dance, music entertainment, lucky red envelopes, and more. They'll also be offering exclusive discounts at participating retailers and restaurants in the Irvine Spectrum Center during the event.
Date/Time: February 18, 2018 1PM-3PM
Location: 670 Spectrum Center Drive, Irvine, CA 9261 (located at the Giant Wheel Court)
Parking: Any parking lot/structure at the Irvine Spectrum
Admission: FREE
For more info: https://www.shopirvinespectrumcenter.com/events/chinese-lunar-new-year/
The list will continue to be updated but definitely mark your calendars to check out a Lunar New Year event near you. I'd love to hear about your experience in the comments below!
*Updated 02/05/18
Also, if you wanted to find out what Chinese zodiac animal you are, just look for your birth year below to find out.
Rat: 2008, 1996, 1984, 1972, 1960
Ox: 2009, 1997, 1985, 1973, 1961
Tiger: 2010, 1998, 1986, 1974, 1962
Rabbit: 2011, 1999, 1987, 1975, 1963
Dragon: 2012, 2000, 1988, 1976, 1964
Snake: 2013, 2001, 1989, 1977, 1965
Horse: 2014, 2002, 1990, 1978, 1966
Goat: 2015, 2003, 1991, 1979, 1967
Monkey: 2016, 2004, 1992, 1980, 1968
Rooster: 2017, 2005, 1993, 1981, 1969
Dog: 2018, 2006, 1994, 1982, 1970
Pig: 2019, 2007, 1995, 1983, 1971
For more info on the Chinese zodiac you can click here
Contact: OCfoodfiend@gmail.com
Follow me on Instagram @ocfoodfiend for more food news, deals, and giveaways!